Russian Word of the Day
Friday, March 6, 2015
Increase your Russian vocabulary by visiting this page on a regular basis. Every day, a new Russian word is posted with an English translation, pronunciation and examples of usage. You can also review all the words featured during the past month.
Add to:
RSS | iGoogle | My Yahoo! | Netvibes
big, large, great
[bahl'-SHOY]
Я живу́ в большо́м до́ме.
I live in a big house.
Мы лети́м над больши́м го́родом.
We are flying above a large city.
Большо́й каньо́н -- оди́н из глубоча́йших каньо́нов в ми́ре.
Grand Canyon is one of the deepest canyons in the world.
Это сло́во пи́шется с большо́й бу́квы.
This word is written with a capital letter.
Я большо́й покло́нник ру́сского иску́сства.
I'm a big fan of Russian art.
Recently featured words
big

2012-03-06

he

2012-03-05

no

2012-03-04

last

2012-03-03

remaining

2012-03-02

even

2012-03-01

this

2012-02-28

president

2012-02-27

the very

2012-02-26

road

2012-02-25

war

2012-02-24

night

2012-02-23

to give

2012-02-22

case

2012-02-21

now

2012-02-20

not, -n't

2012-02-19

scary

2012-02-18

but (contrast)

2012-02-17

end

2012-02-16

hour

2012-02-15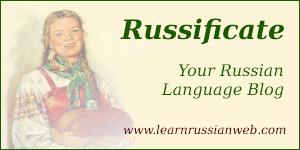 Copyright 2001-2015 MasterRussian.com | Privacy Policy | Contact Us