Russian Word of the Day
Thursday, February 11, 2016
Increase your Russian vocabulary by visiting this page on a regular basis. Every day, a new Russian word is posted with an English translation, pronunciation and examples of usage. You can also review all the words featured during the past month.
Add to:
RSS | iGoogle | My Yahoo! | Netvibes
not, -n't, no, without
[nʲeh]
Я не знаю.
I don't know.
Это не правда.
That's not true.
Мне от этого не легче.
That doesn't make it any easier for me.
Чемодан не тяжелый, а лёгкий.
The suitcase is not heavy but light.
Это ты разбил вазу? Нет, не я!
Was it you who broke the vase? No, not me!
Recently featured words
not, -n't

2013-02-11

already

2013-02-08

shape

2013-02-07

where

2013-02-06

round

2013-02-05

several

2013-02-04

after all

2013-02-03

flat

2013-02-02

long ago

2013-02-01

necessary

2013-01-31

to try

2013-01-30

really

2013-01-29

full

2013-01-28

back

2013-01-27

fire

2013-01-26

especially

2013-01-25

fast

2013-01-24

enter

2013-01-23

to forget

2013-01-22

response

2013-01-21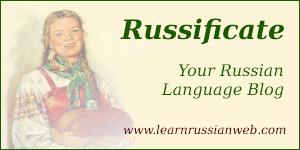 Copyright 2001-2015 MasterRussian.com | Privacy Policy | Contact Us