Russian Word of the Day
Saturday, November 22, 2014
Increase your Russian vocabulary by visiting this page on a regular basis. Every day, a new Russian word is posted with an English translation, pronunciation and examples of usage. You can also review all the words featured during the past month.
Add to:
RSS | iGoogle | My Yahoo! | Netvibes
to learn, to get to know, find out
[ooz-NAHT']
I'm curious if he'll recognize himself on the caricature.
Photo by Claudio Mangini, licensed under CC SA 2.0
От негó я мнóго узнáл.
I've learned a lot from him.
Нáдо узнáть, как они́ рабóтают в бáнке.
You need to find out the bank's opening hours.
Когдá ты узнáла о том, что они жени́лись?
When did you learn that they got married? (said by a female)
Ди́на узнáла своегó брáта по гóлосу.
Dina recognized her brother by his voice.
На трéнинге мы узнáли мнóго нóвого.
We learned many new things during the training course.
Recently featured words
to learn

2013-05-04

every

2013-05-03

country

2013-05-02

we

2013-05-01

by

2013-04-30

from

2013-04-29

nice

2013-04-28

Russian

2013-04-27

count

2013-04-26

friend

2013-04-25

to turn out

2013-04-24

from, away from

2013-04-23

and, but

2013-04-22

to do

2013-04-21

money

2013-04-20

to love

2013-04-19

wife

2013-04-18

to begin to

2013-04-17

along

2013-04-16

one's

2013-04-15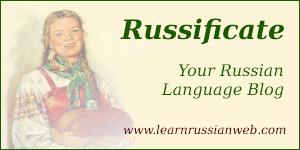 Copyright 2001-2014 MasterRussian.com | Privacy Policy | Contact Us