Russian Word of the Day
Tuesday, September 2, 2014
Increase your Russian vocabulary by visiting this page on a regular basis. Every day, a new Russian word is posted with an English translation, pronunciation and examples of usage. You can also review all the words featured during the past month.
Add to:
RSS | iGoogle | My Yahoo! | Netvibes
to mean, to signify
[ZNAH-cheet']
Что зна́чит э́то сло́во?
What does this word mean?
Он о́чень мно́го для меня́ зна́чит.
He is of great importance to me.
Ва́ше обеща́ние ничего́ не зна́чит.
Your promise doesn't mean anything.
Что э́то зна́чит?
What does it mean?
Люби́ть -- зна́чит ве́рить.
To love means to believe.
Recently featured words
to mean

2013-01-10

to

2013-01-09

Moscow

2013-01-08

myself

2013-01-07

one

2013-01-06

to say

2013-01-05

question

2013-01-04

to give

2013-01-03

father

2013-01-02

strength

2013-01-01

who

2012-12-31

to be

2012-12-30

a child

2012-12-29

how, what

2012-12-28

which

2012-12-27

love

2012-12-26

to seem

2012-12-25

minute

2012-12-24

my

2012-12-23

behind

2012-12-22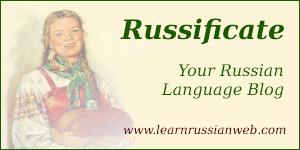 Copyright 2001-2014 MasterRussian.com | Privacy Policy | Contact Us