Russian Word of the Day
Thursday, September 18, 2014
Increase your Russian vocabulary by visiting this page on a regular basis. Every day, a new Russian word is posted with an English translation, pronunciation and examples of usage. You can also review all the words featured during the past month.
Add to:
RSS | iGoogle | My Yahoo! | Netvibes
to call, to ring
[pah-zvah-NEET']
Мне позвонили из банка.
I've got a phone call from the bank.
Завтра я позвоню своему другу из России.
Tomorrow I will call my friend from Russia.
Священник позвонил в колокол.
The priest rang the bell.
Recently featured words
to call

2013-01-13

here

2013-01-12

cinema

2013-01-11

to mean

2013-01-10

to

2013-01-09

Moscow

2013-01-08

myself

2013-01-07

one

2013-01-06

to say

2013-01-05

question

2013-01-04

to give

2013-01-03

father

2013-01-02

strength

2013-01-01

who

2012-12-31

to be

2012-12-30

a child

2012-12-29

how, what

2012-12-28

which

2012-12-27

love

2012-12-26

to seem

2012-12-25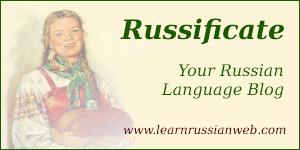 Copyright 2001-2014 MasterRussian.com | Privacy Policy | Contact Us