Russian Word of the Day
Saturday, May 30, 2015
Increase your Russian vocabulary by visiting this page on a regular basis. Every day, a new Russian word is posted with an English translation, pronunciation and examples of usage. You can also review all the words featured during the past month.
Add to:
RSS | iGoogle | My Yahoo! | Netvibes
who, that, some
[ktoh]
Кто э́то?
Who is this?
Кто хо́чет стать миллионе́ром?
Who wants to become a millionaire.
Кто там?
Who's there?
Я зна́ю, кто э́та де́вушка.
I know who this girl is.
Я не зна́ю, есть ли там кто.
I don't know if there's someone there.
Recently featured words
part

2012-05-29

boy

2012-05-28

really

2012-05-27

week

2012-05-26

hold

2012-05-25

under

2012-05-24

husband

2012-05-23

man

2012-05-22

sun

2012-05-21

remember

2012-05-20

to listen to (+ accus.)

2012-05-19

such

2012-05-18

to hear

2012-05-17

hand

2012-05-16

about (+ prepos.)

2012-05-15

and

2012-05-14

to leave

2012-05-13

to work

2012-05-12

simply

2012-05-11

Soviet

2012-05-10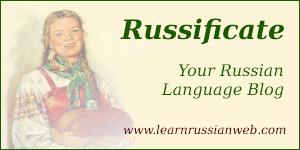 Copyright 2001-2015 MasterRussian.com | Privacy Policy | Contact Us