Russian Vocabulary (and Wisdom)
How to say "straight" in Russian
This Russian word is one of the top 1000 words in Russian. The complete list of most common Russian words is available here.
Meaning: straight, frankly, directly, exactly, just, real
Pronunciation: [PRYAH-muh]
Part of speech: adverb
Rank: #274 (see frequency list)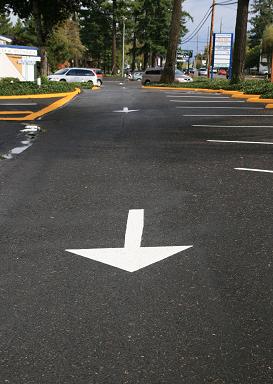 The traffic is moving straight at us.

Иди́те пря́мо, пото́м поверни́те нале́во.
Go straight then turn left. (polite)
Маши́на останови́лась пря́мо пе́ред на́ми.
The car stopped right in front of us.
Он смо́трит пря́мо на нас.
He's looking directly at us.
Скажи́ пря́мо, что ты ду́маешь?
Tell me directly, what do you think? (informal)
Пря́мо как на войне́.
Just like at war.
По́сле встре́чи Макси́м пошёл пря́мо в гости́ницу.
After the meeting Maxim went straight to the hotel.
Аня посмотре́ла мне пря́мо в глаза́.
Anya looked straight into my eyes.

literal

Anya looked me straight in the eyes.
Он сиде́л пря́мо и молча́л.
He was sitting straight and silent.
Учи́тель объясни́л зада́ние пря́мо и поня́тно.
The teacher explained the task straight and clear.
Мне, пря́мо скажу́, понра́вилось.
Frankly speaking, I liked it.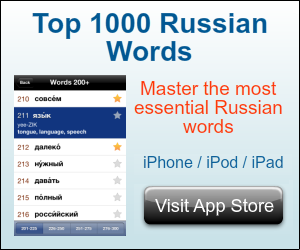 пря́мо к де́лу = to the point


literal

straight to business
пря́мо сейча́с = right now


literal

straight now
пря́мо в я́блочко = to hit the bull's eye


literal

straight into the apple
прямо́й = straight; honest (adjective)
Phrase recordings: Copyright(c) 2011 MasterRussian.com. All rights reserved.
Word recordings: Copyright(c) 2006 Streit Goulnara, Streit Eric, Vion Nicolas. Copyright(c) 2007 S. Sakhno, N. Vion. Distributed under CC-BY.
Got questions?
Ask them in the Russian Questions and Answers — a place for students, teachers and native Russian speakers to discuss Russian grammar, vocabulary, pronunciation, and other aspects of the Russian language.
Copyright 2001-2022 MasterRussian.com | Privacy Policy | Contact Us