Russian Picture Dictionary
Learn Russian vocabulary in a fun, visual way. Simply look at an object to know how it's called in Russian. Quickly search for words in the Russian-English and English-Russian dictionary. Easy-to-read phonetic transcription and clear audio recordings will help you pronounce the words properly.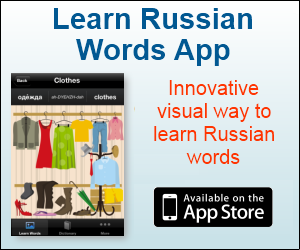 • 12 Essential Topics (Restaurant, Clothes, etc.)
• 200+ images, including Cyrillic letters
• High-quality audio by native Russian speakers

Got questions?
Ask them in the Russian Questions and Answers — a place for students, teachers and native Russian speakers to discuss Russian grammar, vocabulary, pronunciation, and other aspects of the Russian language.
Copyright 2001-2023 MasterRussian.com | Privacy Policy | Contact Us