Russian Vocabulary (and Wisdom)
How to say "main" in Russian
This Russian word is one of the top 1000 words in Russian. The complete list of most common Russian words is available here.
Meaning: main, chief, principal, head (attr.), major, capital, key
Pronunciation: [GLAHV-niy]
Part of speech: adjective
Rank: #203 (see frequency list)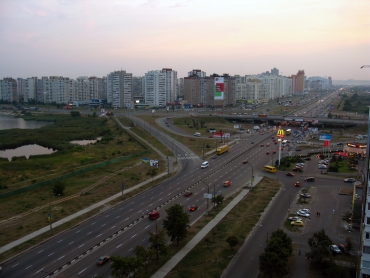 We live in the main street of the city.
Photo by thisisbossi CC-BY-SA-2.0
Мы живём на гла́вной у́лице го́рода.
We live in the main street of the city.
Мой па́па – гла́вный инжене́р вагонострои́тельного заво́да.
My father is the chief engineer of the train car factory.
С э́тим вопро́сом вам лу́чше обрати́ться к гла́вному врачу́.
You'd better address the head physician with this question.
Сейча́с гла́вная пробле́ма – достро́ить дом.
The main problem now is to finish building the house.
Дава́й встре́тимся у гла́вного вхо́да в университе́т.
Let's meet at the main entrance to the University.
Гла́вными предме́тами в росси́йских шко́лах до сих пор остаю́тся ру́сский язы́к и матема́тика.
Russian and math still remain major subjects in Russian schools.
Одни́м из гла́вных усло́вий побе́ды в соревнова́ниях явля́ется уме́ние рабо́тать в кома́нде.
One of the key conditions of victory in the competition is the ability to work in a team.
Гла́вную мужску́ю роль в фи́льме "Иро́ния судьбы́, и́ли с лёгким па́ром" сыгра́л росси́йский актёр Андре́й Мягко́в.
The leading male part in the film "The Irony of Fate, or Enjoy Your Bath" was played by the Russian actor Andrey Myagkov.
Гла́вное зда́ние Моско́вского госуда́рственного университе́та и́мени Ломоно́сова нахо́дится на Воробьёвых гора́х.
The main building of Lomonosov Moscow State University is situated on the Vorobyovy Hills.
Гла́вной причи́ной исчезнове́ния ры́бы в реке́ ста́ло загрязне́ние воды́.
The major cause of disappearance of fish in the river was water pollution.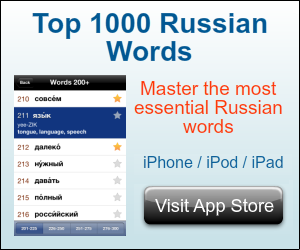 гла́вное предложе́ние (gram.) = main clause
гла́вным о́бразом = chiefly, mainly, principally
гла́вное де́ло (parenth.; col.) = most importantly; the chief / main thing is…
гла́вный приз = first prize
гла́вное = essence, the chief / main thing
глава́ = head, chief
главе́нство = supremacy, domination
главе́нствовать = to predominate (over), dominate
основно́й = principal, main, cardinal
Vocabulary lesson: By RT: Learn Russian exclusively for MasterRussian

Phrase recordings: Copyright(c) 2011 MasterRussian.com. All rights reserved.
Word recordings: Copyright(c) 2006 Streit Goulnara, Streit Eric, Vion Nicolas. Copyright(c) 2007 S. Sakhno, N. Vion. Distributed under CC-BY.
Got questions?
Ask them in the Russian Questions and Answers — a place for students, teachers and native Russian speakers to discuss Russian grammar, vocabulary, pronunciation, and other aspects of the Russian language.
Copyright 2001-2020 MasterRussian.com | Privacy Policy | Contact Us