Russian Vocabulary (and Wisdom)
How to say "fast" in Russian
This Russian word is one of the top 1000 words in Russian. The complete list of most common Russian words is available here.
Meaning: fast, quick, speedy, early, rapid, hasty, express
Pronunciation: [SKOH-riy]
Part of speech: adjective
Rank: #433 (see frequency list)
Экспе́рты прогнози́руют ско́рое повыше́ние цен на проду́кты.
Experts predict that grocery prices will soon increase.
Я купи́л биле́т на ско́рый по́езд до Москвы́.
I bought an express train ticket to Moscow.

literal

I bought a ticket on an express train to Moscow.
Мы наде́емся на ско́рое заверше́ние э́того прое́кта.
We hope for a quick completion of this project.
Не принима́й реше́ния на ско́рую ру́ку.
Do not make hasty decisions.

literal

Don't accept decisions on hasty hand.
Кремль наде́ется на ско́рое прекраще́ние проте́стов.
The Kremlin hopes for a quick end to the protests.
Метеоро́логи предска́зывают ско́рое наступле́ние моро́зов в Москве́.
Meteorologists are predicting an imminent onset of frost in Moscow.
Э́то письмо́ должно́ быть доста́влено за́втра. Отпра́вь его́ ско́рой по́чтой.
This letter should be delivered tomorrow. Send this letter via express mail.
Реше́ние сове́та директоро́в привело́ к ско́рому улучше́нию прода́ж компа́нии.
The decision of the board of directors has led to rapid improvement of the company's sales.
Ско́рое бу́дущее пока́жет был ли ты прав.
The near future will tell if you were right.
Э́ти собы́тия привели́ к ско́рому распа́ду Сове́тского Сою́за.
These events led to the rapid collapse of the Soviet Union.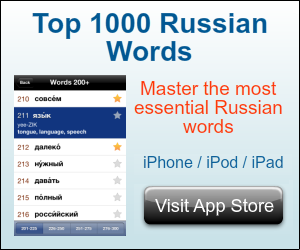 Phrase recordings: Copyright(c) 2011 MasterRussian.com. All rights reserved.
Word recordings: Copyright(c) 2006 Streit Goulnara, Streit Eric, Vion Nicolas. Copyright(c) 2007 S. Sakhno, N. Vion. Distributed under CC-BY.
Got questions?
Ask them in the Russian Questions and Answers — a place for students, teachers and native Russian speakers to discuss Russian grammar, vocabulary, pronunciation, and other aspects of the Russian language.
Copyright 2001-2019 MasterRussian.com | Privacy Policy | Contact Us