Russian Vocabulary (and Wisdom)
How to say "president" in Russian
This Russian word is one of the top 1000 words in Russian. The complete list of most common Russian words is available here.
Meaning: president, director
Pronunciation: [pryeh-zee-DYEHNT]
Part of speech: noun
Rank: #731 (see frequency list)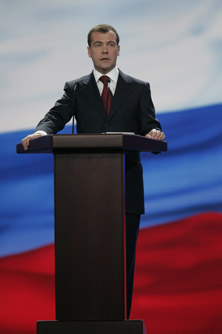 President Dmitry Medvedev. April 29, 2008
Photo by the Presidential Press and Information Office

Дмитрий Медведев -- третий президент Российской Федерации.
Dmitry Medvedev is the third president of the Russian Federation.
Сергей Брин является одним из основателей и президентом по технологиям в компании "Гугл".
Sergey Brin is the co-founder and the president of technology at Google.
Встреча президентов России и США прошла в июле 2009 года.
The meeting of the presidents of Russia and the United States took place in July 2009.
В текстах официальных государственных документов слово "президент" пишется с прописной буквы.
The word "president" is capitalized in the texts of official government documents.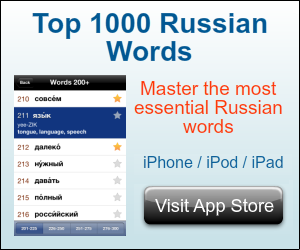 | | | |
| --- | --- | --- |
| Case | Singular | Plural |
| Nominative | президе́нт | президе́нты |
| Genitive | президе́нта | президе́нтов |
| Dative | президе́нту | президе́нтам |
| Accusative | президе́нта | президе́нтов |
| Instrumental | президе́нтом | президе́нтами |
| Prepositional | президе́нте | президе́нтах |
Phrase recordings: Copyright(c) 2011 MasterRussian.com. All rights reserved.
Word recordings: Copyright(c) 2006 Streit Goulnara, Streit Eric, Vion Nicolas. Copyright(c) 2007 S. Sakhno, N. Vion. Distributed under CC-BY.
Got questions?
Ask them in the Russian Questions and Answers — a place for students, teachers and native Russian speakers to discuss Russian grammar, vocabulary, pronunciation, and other aspects of the Russian language.
Copyright 2001-2022 MasterRussian.com | Privacy Policy | Contact Us