Russian Vocabulary (and Wisdom)
How to say "response " in Russian
This Russian word is one of the top 1000 words in Russian. The complete list of most common Russian words is available here.
Meaning: response , answer , reply
Pronunciation: [aht-VYEHT]
Part of speech: noun (masculine noun)
Rank: #427 (see frequency list)
Отве́ты Ната́льи на тест бы́ли непра́вильными.
Natalia's answers on her test were wrong.
Судье́ не понра́вился отве́т обвиня́емого на его́ вопро́с.
The judge did not like defendant's response to his question.
Леони́д получи́л отве́т из университе́та на его́ заявле́ние.
Leonid received a reply from the university about his application.
Я получи́л отве́т от партнёра по би́знесу о но́вом контра́кте.
I received a response from a business partner regarding the new contract.
Я жду отве́та от учи́теля об оце́нке за экза́мен.
I am waiting for a reply from my teacher about my grade on the exam.
Суд ждёт отве́та от жюри прися́жных.
The court is expecting an answer from the jury.
Не дожда́вшись отве́та опера́тора, он положи́л тру́бку.
He hung up not receiving a response from the operator.
Влад ждёт отве́та на пети́цию.
Vlad is waiting for an answer to his petition.
У моего́ учи́теля по филосо́фии есть отве́ты на все вопро́сы.
My philosophy teacher has answers to all questions.
А́нна провали́ла экза́мен, потому́ что её отве́ты бы́ли непо́лными.
Anna failed the exam because her answers were incomplete.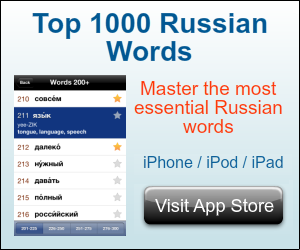 Phrase recordings: Copyright(c) 2011 MasterRussian.com. All rights reserved.
Word recordings: Copyright(c) 2006 Streit Goulnara, Streit Eric, Vion Nicolas. Copyright(c) 2007 S. Sakhno, N. Vion. Distributed under CC-BY.
Got questions?
Ask them in the Russian Questions and Answers — a place for students, teachers and native Russian speakers to discuss Russian grammar, vocabulary, pronunciation, and other aspects of the Russian language.
Copyright 2001-2021 MasterRussian.com | Privacy Policy | Contact Us