Russian Vocabulary (and Wisdom)
How to say "remaining" in Russian
This Russian word is one of the top 1000 words in Russian. The complete list of most common Russian words is available here.
Meaning: remaining, the rest of, the rest, the others
Pronunciation: [ahs-tahl'-NOY]
Part of speech: adjective, noun
Rank: #701 (see frequency list)
Остально́й день прошёл норма́льно.
The rest of the day went normal.
Я хочу́ посмотре́ть остальны́е фи́льмы.
I want to watch the rest of the movies.
Что вы де́лали в остально́е вре́мя?
What were you doing the rest of the time? (polite or plural)
В остальны́е дни магази́н рабо́тает в обы́чном режи́ме.
The store works in normal mode all other days.
Он говори́л, а остальны́е слу́шали.
He was talking while the others were listening.
Остально́е я сде́лаю сам.
I will do the rest myself.
В остально́м всё бы́ло в но́рме.
In other respects, everything was normal.
Где остально́й наро́д?
Where's the rest of the crowd?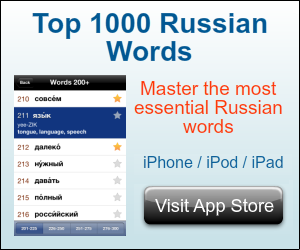 остально́е вре́мя = the rest of the time
в остально́м = in other respects
всё остально́е = everything else
все остальны́е = all the others
Nominative

остально́й

остально́е

остальна́я

остальны́е

Genitive

остально́го

остально́го

остально́й

остальны́х

Dative

остально́му

остально́му

остально́й

остальны́м

Accusative
(anim/inanim)

остально́го/
остально́й

остально́е

остальну́ю

остальны́х/
остальны́е

Instrumental

остальны́м

остальны́м

остально́й

остальны́ми

Prepositional

остально́м

остально́м

остально́й

остальны́х
Phrase recordings: Copyright(c) 2011 MasterRussian.com. All rights reserved.
Word recordings: Copyright(c) 2006 Streit Goulnara, Streit Eric, Vion Nicolas. Copyright(c) 2007 S. Sakhno, N. Vion. Distributed under CC-BY.
Got questions?
Ask them in the Russian Questions and Answers — a place for students, teachers and native Russian speakers to discuss Russian grammar, vocabulary, pronunciation, and other aspects of the Russian language.
Copyright 2001-2022 MasterRussian.com | Privacy Policy | Contact Us