Russian Vocabulary (and Wisdom)
How to say "fire" in Russian
This Russian word is one of the top 1000 words in Russian. The complete list of most common Russian words is available here.
Meaning: fire, flames, light
Pronunciation: [ah-GOHN']
Part of speech: noun (masculine noun)
Rank: #467 (see frequency list)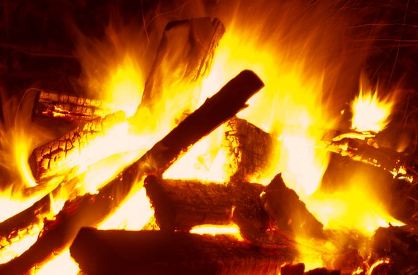 In fireplace burns fire.
Photo by Steven Falconer CC-BY-SA-2.0
Солда́ты гре́лись у огня́ в лесу́.
Soldiers were keeping warm by the fire in the forest.
Игра́ с огнём мо́жет быть опа́сна.
Playing with fire could be dangerous.
В ками́не гори́т ого́нь.
There is a fire in the fireplace.

literal

In fireplace burns fire.
Кот был спасён из огня́.
The cat was rescued from the fire.
Весь дом был охва́чен огнём.
The whole house was engulfed in flames.
Во́время прибы́вшие пожа́рные потуши́ли ого́нь.
Firefighters arrived in time and extinguished the fire.
У нас бо́льше нет огня́. Нам ну́жно собра́ть бо́льше дров.
We no longer have fire. We need to gather more firewood.
Пла́мя огня́ охвати́ло весь дом.
Flames from the fire engulfed the entire house.
Ого́нь вспы́хнул мгнове́нно.
Fire broke out immediately.
Спаса́тели нашли́ заблуди́вшуюся гру́ппу тури́стов по спаса́тельному огню́, кото́рый они́ разожгли́ на пля́же.
Rescuers found a lost group of tourists by a signal fire which they lit on the beach.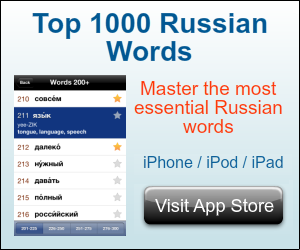 Phrase recordings: Copyright(c) 2011 MasterRussian.com. All rights reserved.
Word recordings: Copyright(c) 2006 Streit Goulnara, Streit Eric, Vion Nicolas. Copyright(c) 2007 S. Sakhno, N. Vion. Distributed under CC-BY.
Got questions?
Ask them in the Russian Questions and Answers — a place for students, teachers and native Russian speakers to discuss Russian grammar, vocabulary, pronunciation, and other aspects of the Russian language.
Copyright 2001-2019 MasterRussian.com | Privacy Policy | Contact Us