Russian Vocabulary (and Wisdom)
How to say "necessary" in Russian
This Russian word is one of the top 1000 words in Russian. The complete list of most common Russian words is available here.
Meaning: necessary, needed, right, correct , required
Pronunciation: [NOOZHN-niy]
Part of speech: adjective
Rank: #137 (see frequency list)
Мы мо́жем е́хать, я нашёл ну́жный а́дрес.
We can go now, I found the correct address.
Я отпра́вил тебе́ всю ну́жную информа́цию на электро́нную почту.
I sent you all the necessary information to your e-mail address.
Михаи́л нашёл ну́жные слова, что́бы всех успоко́ить.
Michael found the right words to appease everyone.
Я не счита́ю ну́жным обсужда́ть с тобо́й э́тот вопро́с.
I do not think it is necessary to discuss this issue with you.
Я потра́тил два ча́са в библиоте́ке, но так и не нашёл ну́жную мне кни́гу.
I spent two hours in the library, but could not find the book I needed.
В пое́здку в Африку я возьму́ то́лько са́мые ну́жные ве́щи.
On my trip to Africa I will take only the most necessary things.
Ему́ о́чень повезло́! Он оказа́лся в ну́жное вре́мя в ну́жном ме́сте.
He was very lucky! He turned out to be in the right place at the right time.
Я хочу́ подари́ть Све́те на день рожде́ния что́-нибудь ну́жное и поле́зное, у тебя́ есть предложе́ния?
I want to give Sveta something needed and useful for her birthday, do you have any suggestions?
Э́то програ́ммное обеспе́чение позволя́ет бы́стро найти́ ну́жные да́нные в систе́ме.
This software allows you to quickly find the required data in the system.
По́сле не́скольких лет иссле́дований, он пришёл к ну́жному реше́нию.
After several years of research, he came to the right decision.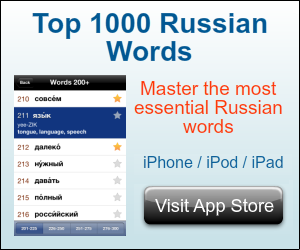 Phrase recordings: Copyright(c) 2011 MasterRussian.com. All rights reserved.
Word recordings: Copyright(c) 2006 Streit Goulnara, Streit Eric, Vion Nicolas. Copyright(c) 2007 S. Sakhno, N. Vion. Distributed under CC-BY.
Got questions?
Ask them in the Russian Questions and Answers — a place for students, teachers and native Russian speakers to discuss Russian grammar, vocabulary, pronunciation, and other aspects of the Russian language.
Copyright 2001-2019 MasterRussian.com | Privacy Policy | Contact Us