Russian Vocabulary (and Wisdom)
How to say "several" in Russian
This Russian word is one of the top 1000 words in Russian. The complete list of most common Russian words is available here.
Meaning: several, few, rather, some, somewhat
Pronunciation: [NYES-kuhl'-kuh]
Part of speech: adverb
Rank: #146 (see frequency list)
В кафе́ было не́сколько челове́к.
There were several people in the cafe.
У меня́ не́сколько бли́зких друзе́й.
I have a few close friends.
Он повтори́л свой вопро́с не́сколько раз.
He repeated his question several times.
Я дал ему́ не́сколько я́блок.
I gave him several apples.
Не́сколько челове́к спра́шивали о тебе́.
Several people asked about you.
Я узна́л об э́том не́сколько дней спустя́.
I find out about this a few days later.
Он был не́сколько удивлён на́шей встре́че.
He was quite surprised by our meeting.

literal

He was somewhat surprised by our meeting.
Я бы хоте́л показа́ть тебе́ не́сколько фотогра́фий из мое́й пое́здки в Росси́ю.
I would like to show you a few photos from my trip to Russia.
Во вре́мя перегово́ров мы обсуди́ли не́сколько ва́жных вопро́сов.
We discussed several important issues during the business meeting.
Он рассказа́л мне не́сколько интере́сных фа́ктов из биогра́фии Го́голя.
He told me some interesting facts from the biography of Gogol.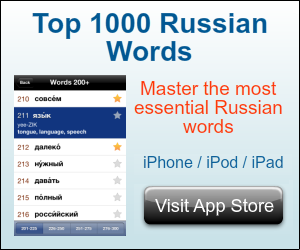 Phrase recordings: Copyright(c) 2011 MasterRussian.com. All rights reserved.
Word recordings: Copyright(c) 2006 Streit Goulnara, Streit Eric, Vion Nicolas. Copyright(c) 2007 S. Sakhno, N. Vion. Distributed under CC-BY.
Got questions?
Ask them in the Russian Questions and Answers — a place for students, teachers and native Russian speakers to discuss Russian grammar, vocabulary, pronunciation, and other aspects of the Russian language.
Copyright 2001-2021 MasterRussian.com | Privacy Policy | Contact Us