Russian Vocabulary (and Wisdom)
How to say "although" in Russian
This Russian word is one of the top 1000 words in Russian. The complete list of most common Russian words is available here.
Meaning: although, though, even though, at least
Pronunciation: [khah-TYAH]
Part of speech: conjunction
Rank: #156 (see frequency list)
Хотя́ я отли́чно пла́ваю, я о́чень боя́лся пла́вать в бу́рной го́рной реке́.
Although I am a great swimmer, I was afraid to swim in rough mountain river.
Ви́ктор всё-таки́ пры́гнул с парашю́том со скалы́, хотя́ и знал, что э́то мо́жет быть опа́сно.
Victor still jumped off a cliff with a parachute, even though he knew that it could be dangerous.
Хотя́ Катя о́чень усе́рдно гото́вилась к экза́мену, в день экза́мена она́ си́льно волнова́лась.
Even though Kate vigorously prepared for the exam, on the day of the exam she was very worried.
Не спеши́ с реше́нием, дава́й всё обсу́дим хотя́ бы ещё раз.
Do not rush the decision, let's discuss everything at least once more time.
Ле́на никогда́ не была́ в Пари́же, хотя́ э́то всегда́ был го́род её мечты́.
Lena had never been to Paris, although it has always been the city of her dreams.
Хотя́ игра́ была́ о́чень непредсказу́емой, на́ша кома́нда всё-таки́ вы́играла.
Although the game was very unpredictable, our team still won.
Я сра́зу узна́л Ю́лию, хотя́ мы не ви́делись пять лет.
I immediately recognized Yulia, even though we had not seen each other for five years.
Ты мог хотя́ бы мне позвони́ть.
You could at least give me a call.
Ната́ша стара́ется вы́учить францу́зский уже́ четы́ре го́да, хотя́ ей э́то мало удаётся.
Natasha has been trying to learn French for four years, although she has little success in it.
Приведи́те, пожа́луйста, хотя́ бы оди́н приме́р, подтвержда́ющий ва́шу тео́рию.
Please provide at least one example that confirms your theory.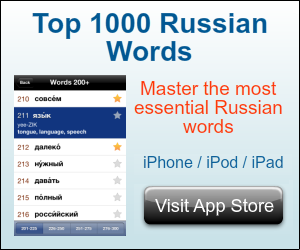 Phrase recordings: Copyright(c) 2011 MasterRussian.com. All rights reserved.
Word recordings: Copyright(c) 2006 Streit Goulnara, Streit Eric, Vion Nicolas. Copyright(c) 2007 S. Sakhno, N. Vion. Distributed under CC-BY.
Got questions?
Ask them in the Russian Questions and Answers — a place for students, teachers and native Russian speakers to discuss Russian grammar, vocabulary, pronunciation, and other aspects of the Russian language.
Copyright 2001-2023 MasterRussian.com | Privacy Policy | Contact Us