Russian Vocabulary (and Wisdom)
How to say "other" in Russian
This Russian word is one of the top 1000 words in Russian. The complete list of most common Russian words is available here.
Meaning: other, another, different
Pronunciation: [droo-GOY]
Part of speech: pronoun
Rank: #64 (see frequency list)
Дава́й поговори́м об э́том в друго́й раз.
Let's talk about that another time.
Один человек идёт, а другой стоит.
One person is walking and another one is standing.
Это друго́е де́ло.
That is another story. (That is quite different.)
Мне нравится и тот, и другой.
I like both of them. (literally: I like that and another)
На друго́й день они́ пошли́ в кино́.
The next day, they went to the movies.
Мы переехали на другое место.
We moved to a different place.
У вас есть другие идеи?
Do you have any other ideas?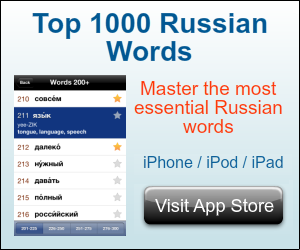 другое дело = different story; another matter
один за другим = one after another
на другой день = the next day
кто-то другой = somebody else
никто другой = nobody else
и тот и другой = both
заботится о других = to think of others / other people
другими словами = in other words
в другом месте = elsewhere; somewhere else
c одной стороны... с друго́й стороны́... = on the one hand... on the other hand
совсем другое дело = another pair of shoes
Nominative

друго́й

друго́е

друга́я

други́е

Genitive

друго́го

друго́го

друго́й

други́х

Dative

друго́му

друго́му

друго́й

други́м

Accusative
(anim/inanim)

друго́го/
друго́й

друго́е

другу́ю

други́х/
други́е

Instrumental

други́м

други́м

друго́й (друго́ю)

други́ми

Prepositional

друго́м

друго́м

друго́й

други́х
Phrase recordings: Copyright(c) 2011 MasterRussian.com. All rights reserved.
Word recordings: Copyright(c) 2006 Streit Goulnara, Streit Eric, Vion Nicolas. Copyright(c) 2007 S. Sakhno, N. Vion. Distributed under CC-BY.
Got questions?
Ask them in the Russian Questions and Answers — a place for students, teachers and native Russian speakers to discuss Russian grammar, vocabulary, pronunciation, and other aspects of the Russian language.
Copyright 2001-2020 MasterRussian.com | Privacy Policy | Contact Us