Videos for Learning Russian
How to write Russian cursive letters: Part 1
89092 views
<< Back to Index
Description
Russian alphabet consists of 33 letters. There are printed and cursive letters. You are probably familiar with the block letters already, however the handwritten letters are a bit more tricky. They might take some time to learn but majority of Russians use them. The main advantage or writing in cursive is the speed. If you write in cursive, you can literally write 2-5 times more words than if you were using print letters.

This lesson teaches how to write the Russian alphabet in cursive. After watching this video you'll know how to handwrite the letters А through Й. The rest of the letters are explained in the next lesson.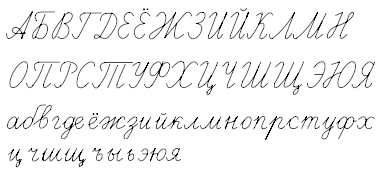 Note: The video on this page is provided by YouTube and is available subject to the YouTube Terms of Service. MasterRussian.com is not affiliated with the authors of the videos and does not necessarily share their views.
Got questions?
Ask them in the Russian Questions and Answers — a place for students, teachers and native Russian speakers to discuss Russian grammar, vocabulary, pronunciation, and other aspects of the Russian language.
Copyright 2001-2023 MasterRussian.com | Privacy Policy | Contact Us