Russian Vocabulary (and Wisdom)
How to say "round" in Russian
This Russian word is one of the top 1000 words in Russian. The complete list of most common Russian words is available here.
Meaning: round, around, about, over
Pronunciation: [vahk-ROOK]
Part of speech: preposition
Rank: #330 (see frequency list)
Де́ти сиде́ли вокру́г стола́.
The children were sitting around the table.
Вокру́г до́ма стоя́л высо́кий деревя́нный забо́р.
There was a high wooden fence around the house.
Мой друг регуля́рно чита́ет нау́чно-популя́рный журна́л "Вокру́г све́та".
My friend regularly reads the popular science magazine "Around the world".
Уже́ давно́ дока́зано, что Земля́ враща́ется вокру́г Со́лнца, а не наоборо́т.
It has been proved for a long time now that the Earth circles the Sun, and not the other way round.
На Но́вый год в Росси́и в де́тских сада́х де́ти во́дят хорово́ды вокру́г нового́дней ёлки.
On New Year in Russian kindergartens the children sing and dance in a ring around the New Year tree.
Я два раза́ обошёл вокру́г до́ма, но не заме́тил ничего́ подозри́тельного.
I walked around the house twice, but I didn't notice anything suspicious.
Мы всегда́ бу́дем по́мнить на́ши прогу́лки по на́бережной, пе́сни под гита́ру, разгово́ры и посиде́лки вокру́г костра́.
We'll always remember our walks along the embankment, hiking songs, talks, and get-togethers around the bonfire.
На у́лице бы́ло о́чень жа́рко, поэ́тому лю́ди сиде́ли вокру́г фонта́нов и в тени́ дере́вьев.
It was very hot in the street and people were sitting around fountains and in the shade of trees.
На вы́ставке вокру́г изве́стного худо́жника сра́зу собрала́сь толпа́ покло́нников и журнали́стов.
At the exhibition the crowd of admirers and journalists gathered around the famous artist at once.
Поле́мика вокру́г э́того зако́на не утиха́ет до сих пор.
Controversy over this law is not over yet.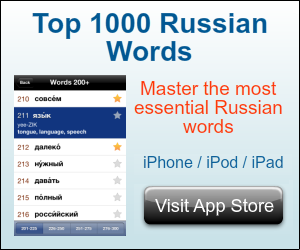 ходи́ть вокру́г да о́коло (col.) = to beat about the bush


literal

to go around and near
обвести́ вокру́г па́льца = to twist round one's little finger
круг = circle, ring
кружи́ть = to turn, whirl, spin, wheel round; circle, go round
кружи́ться = to whirl, spin; go round
о́круг = district; county (USA)
окру́жность = circumference; circle
Vocabulary lesson: By RT: Learn Russian exclusively for MasterRussian

Phrase recordings: Copyright(c) 2011 MasterRussian.com. All rights reserved.
Word recordings: Copyright(c) 2006 Streit Goulnara, Streit Eric, Vion Nicolas. Copyright(c) 2007 S. Sakhno, N. Vion. Distributed under CC-BY.
Got questions?
Ask them in the Russian Questions and Answers — a place for students, teachers and native Russian speakers to discuss Russian grammar, vocabulary, pronunciation, and other aspects of the Russian language.
Copyright 2001-2021 MasterRussian.com | Privacy Policy | Contact Us