Russian Vocabulary (and Wisdom)
How to say "Russian" in Russian
This Russian word is one of the top 1000 words in Russian. The complete list of most common Russian words is available here.
Meaning: Russian
Pronunciation: [ROO-skiy]
Part of speech: adjective
Rank: #250 (see frequency list)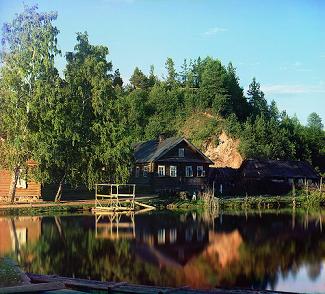 I like Russian landscapes.
Photo by Sergey Prokudin-Gorsky, licensed under CC SA 2.0
Ру́сский язы́к óчень интерécный.
Russian language is very interesting.
Я люблю́ ру́ccкую прирóду.
I like Russian nature / landscapes.
На днях у нас былá контрóльная по ру́ccкой литерату́ре.
The other day we had a test on Russian literature.
Одно из кáчеств ру́сского нарóда - егó гостеприи́мство.
One of the qualities of Russian people is their hospitality.
Дéвушки испекли́ кру́глый хлеб в ру́сской печи́.
Girls baked a round bread in a Russian stove.
Что вы ду́маете о ру́сском фольклóре?
What do you think about Russian folklore?
Сейчáс часто говоря́т о загáдочной ру́сской душé.
Nowadays the Russian mysterious soul is widely discussed.
Ты что-нибу́дь слы́шaл о ру́сских пécнях и пля́сках?
Have you heard anything of Russian songs and dances?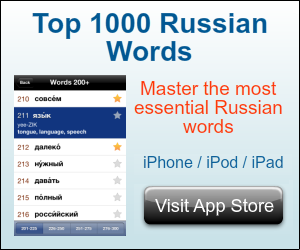 ру́сское гостеприи́мство = Russian hospitality
ру́сская печь = Russian stove
ру́сская вóдка = Russian vodka
росси́йский = Russian (taken as a country)
роднóй = native
Ру́сским бóгом да ру́сским царëм святору́сская земля́ стои́т.
The sacred Russian land exists thanks to Russian tsar and Russian God.
Ру́сская земля́ жéнщиной сильнá.
Russian land is strong thanks to its women.
Nominative

ру́сский

ру́сское

ру́сская

ру́сские

Genitive

ру́сского

ру́сского

ру́сской

ру́сских

Dative

ру́сскому

ру́сскому

ру́сской

ру́сским

Accusative
(anim/inanim)

ру́сского/
ру́сский

ру́сское

ру́сскую

ру́сских/
ру́сские

Instrumental

ру́сским

ру́сским

ру́сской

ру́сскими

Prepositional

ру́сском

ру́сском

ру́сской

ру́сских
Vocabulary lesson: By Russificate blog exclusively for MasterRussian

Phrase recordings: Copyright(c) 2011 MasterRussian.com. All rights reserved.
Word recordings: Copyright(c) 2006 Streit Goulnara, Streit Eric, Vion Nicolas. Copyright(c) 2007 S. Sakhno, N. Vion. Distributed under CC-BY.
Got questions?
Ask them in the Russian Questions and Answers — a place for students, teachers and native Russian speakers to discuss Russian grammar, vocabulary, pronunciation, and other aspects of the Russian language.
Copyright 2001-2022 MasterRussian.com | Privacy Policy | Contact Us