Russian Vocabulary (and Wisdom)
How to say "talk" in Russian
This Russian word is one of the top 1000 words in Russian. The complete list of most common Russian words is available here.
Meaning: talk, conversation
Pronunciation: [rahz-gah-VOHR]
Part of speech: noun (masculine noun)
Rank: #286 (see frequency list)
У нас был о́чень прия́тный разгово́р.
We had a very pleseant conversation.
Моя́ люби́мая те́ма разгово́ра - шопинг.
My favorite conversation theme is about shopping.
Мы сра́зу приступи́ли к разгово́ру.
We immediately started conversation.
Об э́том разгово́ре ста́ло изве́стно в КГБ.
It became known in KGB about this conversation.
Вы сде́лали за́пись на́ших разгово́ров?
Have you done a recording of our conversations?
Же́нщины прово́дят мно́го вре́мени в разгово́рах.
Women spend a lot of time talking.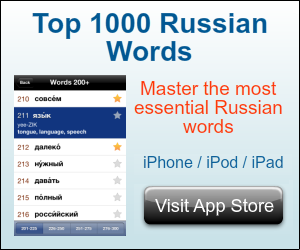 | | | |
| --- | --- | --- |
| Case | Singular | Plural |
| Nominative | разгово́р | разгово́ры |
| Genitive | разгово́ра | разгово́ров |
| Dative | разгово́ру | разгово́рам |
| Accusative | разгово́р | разгово́ры |
| Instrumental | разгово́ром | разгово́рами |
| Prepositional | разгово́ре | разгово́рах |
Phrase recordings: Copyright(c) 2011 MasterRussian.com. All rights reserved.
Word recordings: Copyright(c) 2006 Streit Goulnara, Streit Eric, Vion Nicolas. Copyright(c) 2007 S. Sakhno, N. Vion. Distributed under CC-BY.
Got questions?
Ask them in the Russian Questions and Answers — a place for students, teachers and native Russian speakers to discuss Russian grammar, vocabulary, pronunciation, and other aspects of the Russian language.
Copyright 2001-2022 MasterRussian.com | Privacy Policy | Contact Us