Russian Vocabulary (and Wisdom)
How to say "hi!" in Russian
This Russian word is one of the top 1000 words in Russian. The complete list of most common Russian words is available here.
Meaning: hi!, hello!, regards, greetings
Pronunciation: [pree-VYEHT]
Part of speech: noun (masculine noun; also a greeting phrase)
Rank: #2061

Привет!
Hi! (informal greeting)
Приве́т, как дела́?
Hi, how are things?
Передава́й приве́т сестре́.
Send [my] regards to [your] sister. (informal)
Приве́т из Нью-Йо́рка!
Greetings from New-York!
Все́м приве́т!
Hello everybody! (informal)
Мо́жно переда́ть приве́т своему́ люби́мому му́жу и заказа́ть пе́сню "Миллио́н а́лых роз"?
May I send my regards to my beloved husband and request [to play] the song 'One million scarlet roses'? (on the radio)
Она, что, с приве́том?
Is she cuckoo or what?
Они́ передава́ли вам все́м приве́ты.
They were sending their regards to all of you.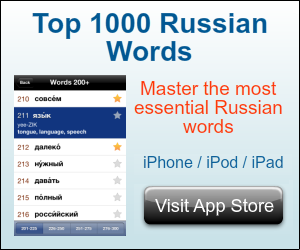 С приветом, [name] = Kind regards, [name] (informal, used in correspondence)


literal

With hello
с приветом = cuckoo, insane


literal

with hello
передавать привет (+ dative) = to send one's regards (to)
ни ответа ни привета от него = not a word from him


literal

neither answer nor hello from him
горячий привет = warmest regards


literal

hot regards
приве́тик = hola
приве́тствие = greeting, salutation
здоро́во = hi! (familiar)
салю́т = salute! (familiar)
Где слова привета, там улыбка для ответа.
Loving word may heal and bless.

literal

Where there are words of a greeting, there is a smile for a reply.
| | | |
| --- | --- | --- |
| Case | Singular | Plural |
| Nominative | приве́т | приве́ты |
| Genitive | приве́та | приве́тов |
| Dative | приве́ту | приве́там |
| Accusative | приве́т | приве́ты |
| Instrumental | приве́том | приве́тами |
| Prepositional | приве́те | приве́тах |
Phrase recordings: Copyright(c) 2011 MasterRussian.com. All rights reserved.
Word recordings: Copyright(c) 2006 Streit Goulnara, Streit Eric, Vion Nicolas. Copyright(c) 2007 S. Sakhno, N. Vion. Distributed under CC-BY.
Got questions?
Ask them in the Russian Questions and Answers — a place for students, teachers and native Russian speakers to discuss Russian grammar, vocabulary, pronunciation, and other aspects of the Russian language.
Copyright 2001-2021 MasterRussian.com | Privacy Policy | Contact Us