Russian Vocabulary (and Wisdom)
How to say "Monday" in Russian
This Russian word is one of the top 1000 words in Russian. The complete list of most common Russian words is available here.
Meaning: Monday
Pronunciation: [pah-nee-DYEHL'-neek]
Part of speech: noun (In Russian, days of the week are written with the small letter except when they occur in the beginning of a sentence.)
Rank: #4478

Сегодня понедельник.
It's Monday today.
Какие музеи работают по понедельникам?
What museums are open on Mondays?
Я уезжаю в понедельник.
I am leaving on Monday.
В Россиийских календарях неделя начинается с понедельника, а заканчивается воскресеньем.
In Russian calendars, a week starts with Monday and ends in Sunday.
Говорят, что понедельник -- день тяжёлый.
They say that Monday is a hard day.
Чёрный понедельник -- день, в который произошло самое большое падение индекса Доу-Джонса за всю историю фондового рынка.
Black Monday was a day when Dow Jones Industrial Average had the largest decline in stock market history.
Вчера был понедельник.
It was Monday yesterday.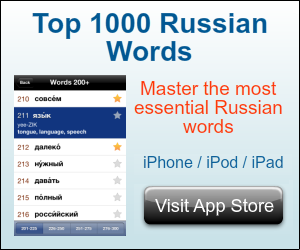 по понедельникам = on Mondays; every Monday
в понедельник = on Monday
| | | |
| --- | --- | --- |
| Case | Singular | Plural |
| Nominative | понеде́льник | понеде́льники |
| Genitive | понеде́льника | понеде́льников |
| Dative | понеде́льнику | понеде́льникам |
| Accusative | понеде́льник | понеде́льники |
| Instrumental | понеде́льником | понеде́льниками |
| Prepositional | понеде́льнике | понеде́льниках |
Phrase recordings: Copyright(c) 2011 MasterRussian.com. All rights reserved.
Word recordings: Copyright(c) 2006 Streit Goulnara, Streit Eric, Vion Nicolas. Copyright(c) 2007 S. Sakhno, N. Vion. Distributed under CC-BY.
Got questions?
Ask them in the Russian Questions and Answers — a place for students, teachers and native Russian speakers to discuss Russian grammar, vocabulary, pronunciation, and other aspects of the Russian language.
Copyright 2001-2020 MasterRussian.com | Privacy Policy | Contact Us