Russian Vocabulary (and Wisdom)
How to say "floor" in Russian
This Russian word is one of the top 1000 words in Russian. The complete list of most common Russian words is available here.
Meaning: floor, sex, gender
Pronunciation: [pohl]
Part of speech: noun (masculine noun)
Rank: #237 (see frequency list)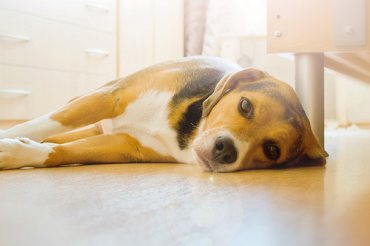 The dog is lying on the floor.
Photo by MR photography CC-BY-2.0
Ва́за упа́ла на́ пол и разби́лась.
The vase fell on the floor and broke.
Соба́ка лежи́т на полу́.
The dog is lying on the floor.
Пол на ку́хне был ужа́сно холо́дный.
The kitchen floor was terribly cold.
Полы́ в до́ме блесте́ли, как но́вые.
The floors in the house were shining like new.
А́нна се́ла на пол у окна́.
Anna set on the floor near a window.
Они́ ещё не зна́ют пол бу́дущего ребёнка.
They don't know the sex of their future child yet.
Осторо́жно, пол окра́шен!
Caution, painted floor!
Она́ хо́чет улу́чшить отноше́ния с мужски́м по́лом.
She wants to improve her relationships with men.
В русском языке, слова́, обознача́ющие лиц же́нского по́ла отно́сятся к же́нскому ро́ду.
In Russian language, words designating female persons are of feminine gender.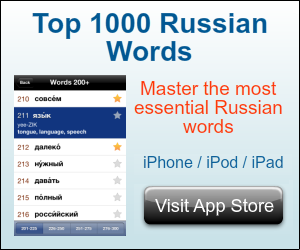 же́нского по́ла = female
мужско́го по́ла = male
прекра́сный пол = the fair sex
си́льный пол = the sterner sex
стена́ = wall
потоло́к = ceiling
окно́ = window
парке́т = parquet
насти́л = flooring
| | | |
| --- | --- | --- |
| Case | Singular | Plural |
| Nominative | по́л | полы́ |
| Genitive | по́ла | поло́в |
| Dative | по́лу | пола́м |
| Accusative | по́л | полы́ |
| Instrumental | по́лом | пола́ми |
| Prepositional | по́ле | пола́х |
| Locative | полу́ | - |
Phrase recordings: Copyright(c) 2011 MasterRussian.com. All rights reserved.
Word recordings: Copyright(c) 2006 Streit Goulnara, Streit Eric, Vion Nicolas. Copyright(c) 2007 S. Sakhno, N. Vion. Distributed under CC-BY.
Got questions?
Ask them in the Russian Questions and Answers — a place for students, teachers and native Russian speakers to discuss Russian grammar, vocabulary, pronunciation, and other aspects of the Russian language.
Copyright 2001-2021 MasterRussian.com | Privacy Policy | Contact Us