Russian Vocabulary (and Wisdom)
How to say "especially" in Russian
This Russian word is one of the top 1000 words in Russian. The complete list of most common Russian words is available here.
Meaning: especially, specially, particularly, specifically
Pronunciation: [ah-SOH-been-nuh]
Part of speech: adverb
Rank: #363 (see frequency list)
Весно́й приро́да осо́бенно краси́ва.
The nature is especially beautiful in spring.
Сего́дня мы должны́ осо́бенно постара́ться и вы́играть э́ту игру́!
Today, we must try especially hard and win this game!
Конце́рт был о́чень интере́сным, но осо́бенно мне понра́вилось выступле́ние танцева́льной гру́ппы.
The concert was very interesting, but I especially liked the performances by the dance group.
Звёзды осо́бенно хорошо́ видны́ но́чью.
The stars are particularly well visible at night.
Алкого́ль о́чень опа́сен, осо́бенно для подро́стков.
Alcohol is very dangerous, especially for teenagers.
Э́та де́вушка лю́бит танцева́ть, осо́бенно ей нра́вится та́нго.
This girl loves to dance, she especially likes tango.
В Санкт-Петербу́рге о́чень краси́во, осо́бенно летом.
St. Petersburg is very beautiful, especially in summer.
Мне нра́вится ру́сская ку́хня, но осо́бенно люблю́ ру́сские пельме́ни.
I like Russian food, but I especially love Russian dumplings.
Переходя́ доро́гу ты до́лжен быть осо́бенно внима́тельным.
When crossing the road you should be especially careful.
В пое́здке в Росси́ю мне осо́бенно понра́вился тур в Ца́рское село́ в Санкт-Петербу́рге.
On the trip to Russia, I especially liked the tour to Tsarskoye Selo in St. Petersburg.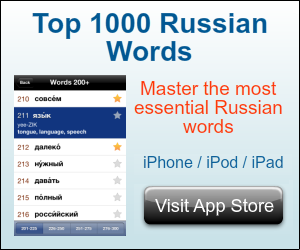 Phrase recordings: Copyright(c) 2011 MasterRussian.com. All rights reserved.
Word recordings: Copyright(c) 2006 Streit Goulnara, Streit Eric, Vion Nicolas. Copyright(c) 2007 S. Sakhno, N. Vion. Distributed under CC-BY.
Got questions?
Ask them in the Russian Questions and Answers — a place for students, teachers and native Russian speakers to discuss Russian grammar, vocabulary, pronunciation, and other aspects of the Russian language.
Copyright 2001-2019 MasterRussian.com | Privacy Policy | Contact Us