Russian Vocabulary (and Wisdom)
How to say "huge" in Russian
This Russian word is one of the top 1000 words in Russian. The complete list of most common Russian words is available here.
Meaning: huge, vast, enormous, giant
Pronunciation: [ahg-ROHM-niy]
Part of speech: adjective
Rank: #308 (see frequency list)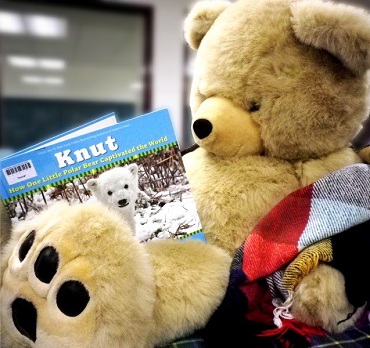 I have a huge teddy bear.
Photo by Enokson CC-BY-SA-2.0
В э́том запове́днике живёт огро́мная я́щерица.
There is a huge lizard liveing in this natural reserve.

literal

In this natural reserve there lives a huge lizard.
На берегу́ Во́лги лежи́т огро́мный ка́мень.
There is a huge stone on the bank of the Volga river.

literal

On the bank of Volga there lies a huge stone.
На День рожде́ния мне подари́ли огро́мный буке́т роз.
I received a huge bouquet of roses as a present on my birthday.
Я хочу́ сказа́ть тебе́ "огро́мное спаси́бо" за всё, что ты для меня́ сде́лал.
I want to tell you "Thank you very much" for all you've done for me.
В э́том магази́не огро́мные ски́дки.
There are huge discounts in this store.
У меня́ есть огро́мный плю́шевый медве́дь.
I have a huge teddy bear.
Его́ дом был огро́мным, поэ́тому нам бы́ло где переночева́ть.
His house was huge, so we had somewhere to sleep.
У На́ди огро́мная колле́кция фи́льмов.
Nadya has a huge collection of movies.

literal

At Nadya (there is) a huge collection of movies.
На конце́рт Фили́ппа Кирко́рова пришло огро́мное число́ покло́нников.
A huge number of fans came to Philip Kirkorov's concert.
У Росси́и са́мая огро́мная террито́рия на плане́те.
Russia has the vastest territory on the planet.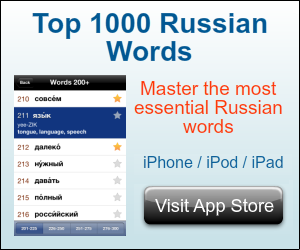 Phrase recordings: Copyright(c) 2011 MasterRussian.com. All rights reserved.
Word recordings: Copyright(c) 2006 Streit Goulnara, Streit Eric, Vion Nicolas. Copyright(c) 2007 S. Sakhno, N. Vion. Distributed under CC-BY.
Got questions?
Ask them in the Russian Questions and Answers — a place for students, teachers and native Russian speakers to discuss Russian grammar, vocabulary, pronunciation, and other aspects of the Russian language.
Copyright 2001-2020 MasterRussian.com | Privacy Policy | Contact Us