Russian Vocabulary (and Wisdom)
How to say "back" in Russian
This Russian word is one of the top 1000 words in Russian. The complete list of most common Russian words is available here.
Meaning: back, backwards, rearward, ago
Pronunciation: [nah-ZAHT]
Part of speech: adverb
Rank: #261 (see frequency list)
Отойди́ наза́д, здесь мо́жет быть опа́сно!
Go back! It could be dangerous here.
Я перее́хал в Москву́ пять лет наза́д.
I moved to Moscow five years ago.
Он огляну́лся наза́д и их взгля́ды встре́тились.
He looked back and their glances met.
Забери́те э́то наза́д, мне э́то не ну́жно.
Take this back, I do not need it.
Я наконе́ц-то нашёл ключи́, кото́рые потеря́л два дня наза́д.
I have finally found my keys, which I lost two days ago.
Доро́га наза́д заняла́ у нас три ча́са.
The trip back took us three hours.
Мы прое́хали наш поворо́т, нам ну́жно верну́ться наза́д.
We drove past our turn, we need to return back.
Неде́лю наза́д мы с друзья́ми е́здили в го́ры ката́ться на лы́жах.
A week ago we went to the mountains with our friends to go skiing.
Я до́лжен довести́ э́то де́ло до конца́. Наза́д дороги нет!
I need to finish this mater entirely. There is no way back.
Весь день мы провели́ на экску́рсии по го́роду и верну́лись наза́д в оте́ль то́лько ве́чером.
We spent all day on an excursion around the city and returned back to the hotel only in the evening.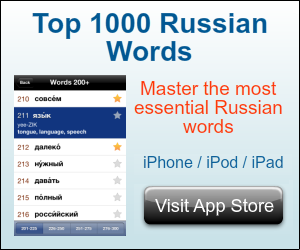 Phrase recordings: Copyright(c) 2011 MasterRussian.com. All rights reserved.
Word recordings: Copyright(c) 2006 Streit Goulnara, Streit Eric, Vion Nicolas. Copyright(c) 2007 S. Sakhno, N. Vion. Distributed under CC-BY.
Got questions?
Ask them in the Russian Questions and Answers — a place for students, teachers and native Russian speakers to discuss Russian grammar, vocabulary, pronunciation, and other aspects of the Russian language.
Copyright 2001-2019 MasterRussian.com | Privacy Policy | Contact Us