Russian Vocabulary (and Wisdom)
How to say "which" in Russian
This Russian word is one of the top 1000 words in Russian. The complete list of most common Russian words is available here.
Meaning: which, that, who
Pronunciation: [kah-TOH-riy]
Part of speech: pronoun
Rank: #31 (see frequency list)
Которая книга вам нравится?
Which book do you like?
Который из этих домов ваш?
Which one of these houses is yours?
Я видел Анну, с которой раньше работал.
I saw Anna who I used to work with before.
Это комната, в которой я работаю.
This is the room I work in.
Вопрос, без которого нельзя обойтись.
An essential question. (lit: a question without which one can't manage)
Глуп тот человек, который остается всегда неизменным.
A man who always stays the same is foolish. (Voltaire)
Человек, который изменил мир.
The man who changed the world.
Вот уже который день не могу застать тебя дома!
I haven't been able to find you at home for so many days!
Челове́к, о кото́ром все говоря́т.
A man who everybody talks about. (prepositional case)
Же́нщина, с кото́рой я дружу́.
A woman who I am friends with. (instrumental case)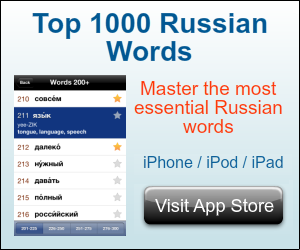 Который час? = What time is it? (lit: Which hour)
Я вам который раз говорю? = How many times have I told you?
который раз...? = how many times...?
уже который день... = it's been long while since...; =(lit: it's been many days since...)
Nominative

кото́рый

кото́рое

кото́рая

кото́рые

Genitive

кото́рого

кото́рого

кото́рой

кото́рых

Dative

кото́рому

кото́рому

кото́рой

кото́рым

Accusative
(anim/inanim)

кото́рого/
кото́рый

кото́рое

кото́рую

кото́рых/
кото́рые

Instrumental

кото́рым

кото́рым

кото́рой (кото́рою)

кото́рыми

Prepositional

кото́ром

кото́ром

кото́рой

кото́рых
Phrase recordings: Copyright(c) 2011 MasterRussian.com. All rights reserved.
Word recordings: Copyright(c) 2006 Streit Goulnara, Streit Eric, Vion Nicolas. Copyright(c) 2007 S. Sakhno, N. Vion. Distributed under CC-BY.
Got questions?
Ask them in the Russian Questions and Answers — a place for students, teachers and native Russian speakers to discuss Russian grammar, vocabulary, pronunciation, and other aspects of the Russian language.
Copyright 2001-2021 MasterRussian.com | Privacy Policy | Contact Us