Russian Vocabulary (and Wisdom)
How to say "history" in Russian
This Russian word is one of the top 1000 words in Russian. The complete list of most common Russian words is available here.
Meaning: history, story, event, business
Pronunciation: [ee-STOH-ree-yah]
Part of speech: noun (feminine noun)
Rank: #257 (see frequency list)
Са́ша рассказа́л интере́сную исто́рию.
Sasha told an interesting story.
Его́ и́мя вошло́ в исто́рию.
His name went down in history.
Я с ни́ми в таку́ю исто́рию попа́л!
I've got into such a mess with them!
На пе́рвом ку́рсе с Анной произошла́ любо́вная исто́рия.
Anna's love story took place in her first year (of study).
Я люблю́ чита́ть заба́вные исто́рии из жи́зни.
I love to read funny stories from life.
Это уче́бник по исто́рии Росси́и.
This is a textbook on the history of Russia.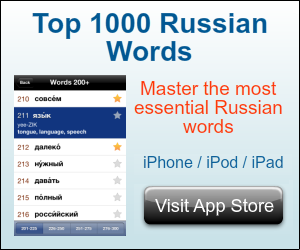 любовная история = love story, romance
старая история = warmed-over cabbage (literally: an old story)
Вот так история! = A fine kettle of fish!
попасть в историю = to get tangled; to get into a mess; to get into an anecdotical situation or accident
| | | |
| --- | --- | --- |
| Case | Singular | Plural |
| Nominative | исто́рия | исто́рии |
| Genitive | исто́рии | исто́рий |
| Dative | исто́рии | исто́риям |
| Accusative | исто́рию | исто́рий |
| Instrumental | исто́рией | исто́риями |
| Prepositional | исто́рии | исто́риях |
Phrase recordings: Copyright(c) 2011 MasterRussian.com. All rights reserved.
Word recordings: Copyright(c) 2006 Streit Goulnara, Streit Eric, Vion Nicolas. Copyright(c) 2007 S. Sakhno, N. Vion. Distributed under CC-BY.
Got questions?
Ask them in the Russian Questions and Answers — a place for students, teachers and native Russian speakers to discuss Russian grammar, vocabulary, pronunciation, and other aspects of the Russian language.
Copyright 2001-2023 MasterRussian.com | Privacy Policy | Contact Us