The Gostak and the Doshes
Decipher a fictional Russian phrase that is meaningless yet grammatically correct. Similar phrases found in the English language include "The iggle squiggs trazed wombly in the harlish hoop" or "The Gostak distims the doshes." They demonstrate that it's possible to derive meaning from the syntax of a sentence even if individual words have no real meaning.
This test has 7 questions
1. If the word stem is глок-, what is the Nominative Feminine Singular Adjective?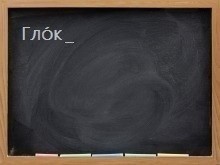 ©iStockphoto.com/marekuliasz
Copyright 2001-2020 MasterRussian.com | Privacy Policy | Contact Us