Beef Stroganoff Recipe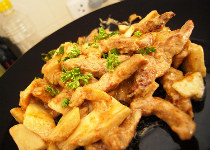 Photo by pittaya CC-BY-2.0
Beef Stroganoff is a meat dish that was created for and named after Russian diplomat and aristocrat, Count Pavel Stroganov. Alternatively, it is believed that the dish is named after the Russian word строгать [strah-GAHT'] meaning 'to shave' or 'to slice' which reminds of the thin strips of beef used in the dish. Here's a simple recipe how to cook this delicious meal. Try cooking this Russian dish next time you are up to something new.
Ingredients
1 lb. beef tenderloin
1 lb. mushrooms
1 cup onion
1/2 tsp. dill weed
1/2 tsp. salt
1/2 tsp. pepper
1/4 cup white wine
1 cup sour cream
Preparation
1. Melt 2 tablespoons butter in a large skillet. Slice beef into thing strips and brown in hot butter. Remove meat from skillet.
2. Add sliced mushrooms and onion (I like to use leek, instead), dill weed, salt and course black pepper to skillet. Cook, slowly, until just tender.
3. Add wine, stir and add cooked beef to skillet. Heat through. Remove skillet from heat, stir in the sour cream and serve.
Serving Suggestions
It's a good idea to serve beef stroganoff with crisp potato straws or mashed potato, as in Russia, however it is often served with rice in the UK, Australia and the USA.
Popularity of Beef Stroganoff
Beef stroganoff is also very popular in Brazil and Portugal, under the name "estrogonofe" or "Strogonoff". The Brazilian variant includes diced beef or strips of beef (usually filet mignon) with tomato sauce, onions, mushrooms and heavy whipping cream.
Stroganoff can also be cooked with strips of chicken breast instead of beef. This is sometimes called Fricassee in restaurants in Brazil.
Stroganoff is also popular in the Nordic countries such as Sweden.
A common Swedish variation of Russian stroganoff is sausage stroganoff, which uses the local falukorv sausage as a substitute for the beef.
We welcome feedback on your experiences below.
Got questions?
Ask them in the Russian Questions and Answers — a place for students, teachers and native Russian speakers to discuss Russian grammar, vocabulary, pronunciation, and other aspects of the Russian language.
Copyright 2001-2022 MasterRussian.com | Privacy Policy | Contact Us