Top 10 Reasons to Learn Russian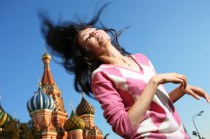 ©iStockphoto.com/logoboom
You might already have your own good reasons for learning Russian. Perhaps you like the sound of the Russian accent, or admire the Russian ballet and literature, or want to get a Russian girlfriend or meet your prince charming. Maybe you plan to do business in Russia or simply want to visit Moscow as a tourist. Just in case you are still wondering about the benefits of learning Russian, here are ten great reasons to get started.
1

You are passionate about Russian classical literature and dream to read the works of Russian classics in the original.
Talented Russian writers - Bunin, Chekhov, Pushkin - are authors of amazingly interesting literary works. The famous writings of Leo Tolstoy, Fyodor Dostoevsky and Nikolai Gogol convey the essence of the Russian soul. However, the Russian culture is known not only for its writers. Many brilliant musicians and singers such like Oistrakh, Chaliapin, Tchaikovsky, and dozens others also came from Russia. The glory of Russian ballet and its stars Anna Pavlova, Mikhail Baryshnikov, and Rudolf Nureyev does not subside even today. Russian cultural heritage is widely known throughout the world and knowledge of the Russian language is a must to fully enjoy and understand it.
2

You have heard a lot about the beauty and modesty of Russian women and want to find your destiny in Russia.
The amazing and mysterious Russian women have been the Muses of many great artists and writers. People have told legends about the beauty of Russian women, while the traditions and peculiarities of Russian upbringing shape their noble and modest character. Russian women make wonderful hosts and place great importance on family values. Many men from different countries of the world dream of having a Russian woman as a wife. Therefore, besides learning the language of love, it would be perfect to master the native language of your future "second half".
3

You are aware of Russia's lucrative investment opportunities and consider establishing a company in Russia.
If you are going on a business trip to Russia, you want to be prepared to communicate with your Russian business partners. Russian entrepreneurs are well-versed in international economics and willingly establish business relationships with partners from abroad. Russia is adequately represented in the international arena. Due to the size of the country and its natural resources, the Russian market is of great interest to foreign businessmen. And serious business requires a serious approach - the knowledge of the Russian language is a must for efficient communication with your new business partners.
4

You are an ambitious traveller and Russia is the next stop on your travel list.
Many foreigners have set to travel across Russia at various times. Russia is a fascinating and exotic country. It occupies a vast territory offering plenty of opportunities to enjoy resort towns with spectacular beaches, experience the taiga with its diverse wildlife and unexplored places, visit the Russian Far East where the sun rises while people in the Western parts of the country are still fast asleep. There is so much to see and do in Russia, and speaking a little Russian will help you to meet all sorts of fascinating people and make the most of every moment.
5

You know that life in Russia is very different from life in the West. You are interested in everything connected with the Russian way of life, habits and mentality.
Life in Russia is not quite the same as in the Western world. Everything from upbringing of children to family values to friends and relationships has its own flavor in Russia. The system of education (kindergartens, schools), health services, and work of various official organizations – all this is often radically different from what is common for the Western Europe, USA, Canada, Australia, or New Zealand. You will find it much easier to quench your thirst to all things Russian if you can speak and understand the Russian language.
More reasons to learn Russian
Reasons to learn Russian: 1-5
Got questions?
Ask them in the Russian Questions and Answers — a place for students, teachers and native Russian speakers to discuss Russian grammar, vocabulary, pronunciation, and other aspects of the Russian language.
Copyright 2001-2022 MasterRussian.com | Privacy Policy | Contact Us