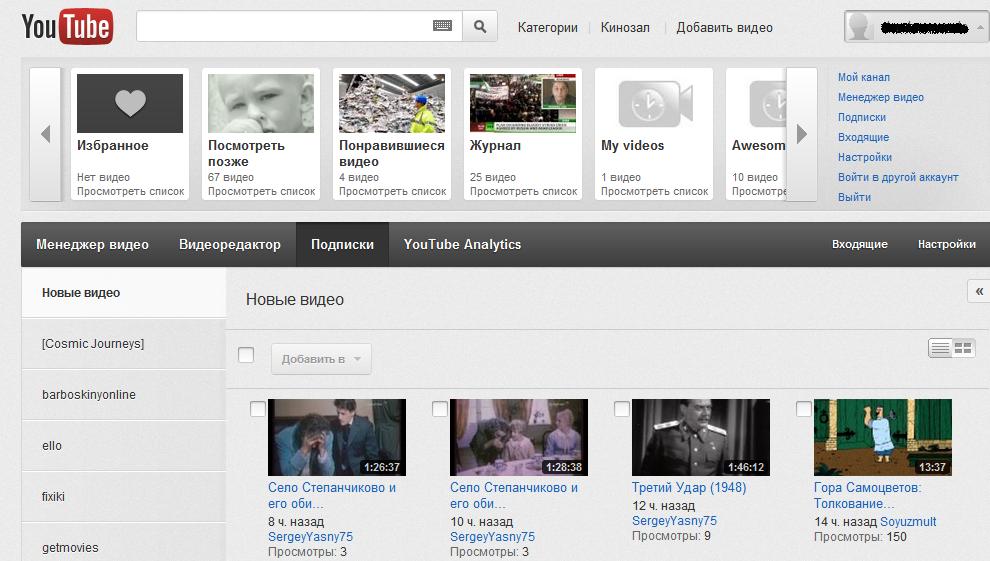 One of the biggest challenges in learning another language is figuring out what a word or a sentence sounds like. Sure, there are pronunciation guides, but even very careful study and memorization of those won't give you the same level of experience as listening to the language being spoken by a native speaker. Luckily, there are lots of ways to listen to real-life Russian language and none of them involve buying a plane ticket or opening a visa.
YouTube presents one such opportunity, not to mention that you can set your site-wide language settings to Russian (see what it looks like on the screenshot above). There are quite a few fantastic Russian language channels on it. Before I list some of them, here are some words for movie and TV genres. Most are easy to remember since they sound much like English words:
Др

а

ма – drama
Детект

и

в – crime or mystery story
Документ

а

льный фильм – documentary
Приключ

е

нческий фильм - adventure movie. Some action movies fall under this category unless there is a lot of violence in which case it's a боев

и

к (action movie).
Тр

и

ллер – thriller
Ком

е

дия – comedy
Д

е

тский фильм – children's movie
Мультф

и

льм – cartoon. Do not assume that it's just for the kids since there are lots of excellent Russian cartoons that were made for adults.
Во

е

нный фильм – war movie, usually about the World War II or the Afghan War.
Полнометражный фильм means feature-length movie and короткометражный фильм or simply короткометражка is its opposite, a movie short.
And now for the channels:
KinoRussia – this channel seems to have a little bit of everything – movies, documentaries, cartoons, and theatrical performances and ballets. There's a small, but clearly marked, плейлист (playlist) of movies with English subtitles.
Mosfilm –  this is the official channel of Russia's movie-making behemoth Мосфильм (Mosfilm). Lots of well-loved and remembered old Soviet movies are on this channel. Some are with English subtitles, but they are not clearly marked.
SoyuzMult – lots and lots of старые добрые мультфильмы (good old cartoons) from Союзмультфильм (Soyuzmultfilm). By the way, the word мультфильм is a compound noun that means мультипликационный фильм (animated movie). The beauty of cartoons, of course, is that many are немногословны (of few words) and characters speak in clear and simple sentences.
MoscowTheaters – if you prefer театральные постановки (theater productions) to кино (movies), then this is the channel for you. It is an official channel created by Moscow city government that shows телеверсии (TV versions) of спектакли (performances) played in Moscow theaters.
Ello – this is a channel for Russian music videos. It's mostly попса (pop music) so don't expect it to be uniformly great. But, to turn around a popular Russian saying, даже в бочке дёгтя бывает ложка мёда (there is a spoonful of honey even in a barrelful of tar). Not to mention lots of vernacular and slang that you won't encounter on the other channels.
Russian Music – this is a strange mix of народная (folk) and эстрадная (variety) music, but it really works. The nice thing about this channel that it's not just видеоклипы (music videos), but also концертные записи (concert recordings).
RT Russian – and if you want to watch новости (the news), then check out RT Russian channel. There is an English-language version as well, but it shows different videos, mostly international news.
Of course, these are just a handful of Russian language channels on YouTube, just about enough to get started. Now it's your turn. Share your favorite Russian-language YouTube channel or video in the comments.